PALESTINIAN AUTHORITY'S NEW LINE ON U.S. AND ISRAEL
Palestinian Authority (P.A.) head Abbas has a new line on Israel and on the U.S.. He said that, besides negotiations, the P.A. should hold dialogs with all Israeli factions unconditionally. He also piggybacked onto President Obama's new line that resolution of the Arab-Israel conflict is of strategic importance to the U.S..
Abbas used all the right-sounding words: "U.S. strategic interest," "entire world," "historic moment," "to create the conditions for a just, balanced and sustainable solution," "Palestine is for the Palestinians," "Israel trying to obstruct this solution," Israel "needs courageous leadership," it would gain "peace." (IMRA, 4/24/10).
The whole line is false. Contrary to the impression Abbas is trying to give, it also is duplicitous.
Jihadists do not enter dialogs sincerely. They are too fanatical to consider anything but advancement of jihad.
Many challenges confront the U.S.. The Arab-Israel conflict is a minor one for the U.S., but it is part of the same jihad movement that challenges the U.S.. The U.S. national interest lay in defeating jihad, not helping the Palestinian Arab jihad contingent gain sovereign war powers.
Reference to "entire world" is what my high school civics teacher called bandwagon propaganda. Popularity is not evidence of sense.
"Historic moment" applied to the non-aggression pact between the Nazis and Soviets, leading to seizure of independent countries.
"Just, balanced and sustainable solution" means the Arabs' solution, which is unjust and imbalanced. Israel would not be sustainable — that's the whole idea.
"Palestine is for the Palestinians" means what? Palestine is the conquerors' name for the Land of Israel. In the years preceding Israeli independence, the Jews there were called "Palestinians." The Arabs were known to be Arabs, much like Arabs elsewhere. Just a couple of decades after that, the Arabs in Judea, Samaria, and Gaza renamed themselves after the conquerors' name for the Land of Israel. Now they say, "Palestine for the Palestinians," a fake nationality.
And what is "Palestine?" The area of the Mandate includes Israel (and did include Jordan). The Jews of Israel call themselves Israelis. Does "Palestine for the Palestinians" mean that the PLO wants to control Israel? Actually, apparently unbeknown to the State Dept. and President Obama, the PLO and Hamas do want to control Israel. That means no peace!
Israel is trying to obstruct peace negotiations? How can that be, when it was the Arabs who set onerous, one-way conditions for holding negotiations, and Israel that set no conditions? PM Netanyahu said, let's negotiate. The Arabs said no, we have conditions. Therefore, the Arabs were obstructing negotiations. But like the futility of dialog with jihadists, Nazis, and Soviets, negotiations with jihadists would be futile.
"Courageous leadership" if Israel succumbs to foreign pressure to make fatal concessions to the Arabs? Sounds like a combination of cowardly and foolhardy leadership. Beware when one's enemies praise a certain course of action!
"Gain peace" by giving up one's holiest site, one's main water source, strategic depth, and secure borders without which one is vulnerable to invasion, while those enemies retain the ideology of hating enough to try again to conquer?
Abbas is engaging in false packaging, making the product seem taller. After such a display of duplicity, Israel really should refuse to negotiate with his regime. One cannot make peace with a regime trying to deceive.

RESPONSIBILITYFOR BLACK SLAVERY, AND MUSLIM ARABS
Henry Louis Gates Jr. wrote an article described as, "A scholarly examination of White/Black responsibility for historic U.S. Black slavery."
His point is that 90% of the slaves were captured for the slave traders by African rulers, themselves. By "African rulers," Prof. Gates implies black Africans. Since the rulers sent their own children abroad for education, and thousands of slaves made it back to their own countries, the "dark continent" was not unenlightened about conditions for the slaves. Therefore, blacks share responsibility for slavery. Some black African rulers have apologized to American blacks for the crimes of the rulers' ancestors (IMRA, 4/24/10).
I disapprove of apologizing for what others did wrong. It is enough for me to acknowledge what was wrongful.
The article omits another party responsible for slavery: Muslim Arabs. The Arabs had black slaves and European slaves, the latter captured by pirates from North Africa, against whom the U.S. once had a small war. For some time, the Arabs rounded up slaves and acted as middle men for the Western slave traders. Elements of racial contempt, extreme cruelty, mass murder, and jihad figured in the Arab slave trade.
In our time, Muslim Arabs have engaged in slavery, particularly in Sudan. At a Manhattan rally against radical Islam that I reported a year ago, one of the speakers present had helped free some of those slaves.
Why did Gates omit this major factor, past and present? He thinks that President Obama's racial mixture offers an opportunity to resolve the question of who was responsible for slavery. But Gates forfeited the opportunity to include the Muslim Arabs as a major party responsible.
For a while, antisemitic demagogues, such as Louis Farrakhan, accused Jews as being disproportionately in the slave trade. The facts showed otherwise. An exhibit on slavery at New York Historical Society refuted the canard. Antisemites try to blame the Jewish people for everything. Unfortunately, the jihadists feed the non-Muslim antisemites' paranoia.
For the record, Islam does not approve of slavery, but Muslim leaders did not stop it.

IRAN GIVES UP QUEST FOR SEAT ON UN HUMAN RIGHTS COMMISSION
Iran gave up its quest for a seat on the UN Human Rights Commission, it told other diplomats. "Iran was heavily criticized in February at the 47-member council's first review over its handling of human rights." Human Rights Watch approved of Iran's decision (IMRA, 4/24/10).
Apparently that dictatorial, jihadist kettle was too black for the black pots at the UN.

U.S. NEGLECTS COUNTERING OF NON-NUCLEAR WEAPONS OF MASS-DESTRUCTION
The U.S. has been working on countering nuclear weapons. It has not given much attention to chemical and biological weapons of mass-destruction. The Obama administration has not nominated a representative to the Chemical Weapons Convention in the Hague.
Chemical and biological weapons of mass-destruction could more easily be acquired by terrorists. Experts consider them more likely to be used against the U.S.. Biological weapons are as destructive of life as nuclear weapons.
Al-Qaeda may be seeking a means of attack to match or surpass that of 9/11, but it also may favor a series of smaller attacks that degrade the U.S. economy (Keith Johnson, Wall St. J., 4/23/10, A2).
Syria is known to have advanced chemical and respectable biological weapons capability.
I would add a fourth weapon of mass-destruction: hacking of the Internet. Hold on. Imagine if power plants are put out of order, and we lose the electricity on which modern industry and home life runs! Imagine if hacking prevents the military from coordinating!
The U.S. is known to be slow to put resources into countering hackers. The recent spate of attacks provided a warning. Our solons should have figured out the need for defensive measures long ago.

WHAT DOES LIQUIDATING TERRORIST LEADERS ACCOMPLISH?
What does liquidating terrorist leaders accomplish? As you know, anti-terrorist forces recently slew several al-Qaida leaders. U.S. officials and media described that accomplishment as a major blow to those organizations. Was it?
Removing some leaders who have developed skills and contacts probably deals a blow, but not a decisive one. Large jihadist movements replace fallen leaders. The jihadist ideology that spawned those leaders remains intact, generating more terrorists. The U.S. needs to find ways to attack the ideology (MEFNews, 4/23.

MAJOR MIDEAST MISCONCEPTIONS: ISRAEL OCCUPIES JUDEA, SAMARIA, AND GAZA
Before one calls an area "occupied," one should know the definition of "occupied." The Geneva Conventions defines it as the forces of one country ruling all or part of another, sovereign country.
That definition does not discuss whether the occupation be legal or illegal. That is a separate matter. It hinges on whether the occupier was the aggressor or whether the state of war has ended but the occupiers' forces remain contrary to the expressed demand of the occupied country.
Leaving an area is one way to end occupation. Another way is to annex the area. Annexation by an aggressor is illegal. Annexation by the victim of aggression, in order reasonably to prevent further aggression originating from the annexed area is legal.
In 1948, Egyptian and Jordanian armies, among others, started a war on Israel. In doing so, they invaded and seized the now disputed Territories of Judea, Samaria, and Gaza. They had committed aggression. Illegal as their act was, they were not considered occupiers. That is because the territories they seized were not part of a sovereign state.
When, after the Arabs made acts of war in 1967, Israel captured those Territories. Most people prefer to call Israel an occupier of them, but Israel is not, for the same reason Egypt and Jordan were not. The double standard in calling Israel an occupier is ideological and ignorant, not based on law.
Israel also acquired, in self-defense, the Sinai and the Golan. While it held them, it legally occupied the Golan and perhaps the Sinai. Perhaps the Sinai, because Egypt's title to the Sinai was weak. Israel relinquished the Sinai but eventually annexed most of the Golan. After two Syrian invasions and many bombardments from the Golan, Israel justifiably annexed the Golan for national security. By annexing the Golan, Israel ceased to occupy it.
Security Council Resolution 242 recognized Implicitly Israel's right to annex, by stating that in a final peace agreement, Israel should withdraw form territory, meaning some territory. In other words, Israel may annex some territory, too, in order to obtain secure borders and because the area is part of the Jewish homeland. (So was the Golan, originally in the Palestine Mandate.)
Israel did withdraw from the Sinai and part of the Golan. Israel thus satisfied 242, but the Arabs did not. The Arabs contesting Judea, Samaria, and Gaza did not make a final peace agreement. Some readers keep insisting that Israel violates UN resolutions, not stating which and how. They may not realize that many Resolutions and the Road Map require reciprocal action by the Arabs. The Arabs do not reciprocate.

PALESTINIAN ARAB ZIONIST ORGANIZATION
lias Issa, a Palestinian Arab from Judea-Samaria, has formed a Palestinian Zionist Organization. He considers the Palestinian Authority terrorist, and urges the world to shun it and support the Jewish people.
His website advises that most Palestinian Arabs do not believe in peace but in eradicating the Jewish influence or presence from Israel, itself. A new Palestinian Arab state therefore would be a terrorist state. Most of the world does not realize this.
The organization cites a number of Palestinian Arabs who have come to the same conclusion.
The website objects to the abuse of Palestinian Arab children in encouraging them to become terrorists (Arutz-7, 4/22/10).

S. AFRICAN JEWS AND GOLDSTONE KEEP UN REPORT CONTROVERSY OUT OF BAR MITZVAH
As reported earlier, Judge Goldstone expected not to attend his grandson's bar mitzvah, for it would draw large protests against his anti-Israel UN report. This standoff has been resolved.
South African Jews groups agreed to meet with him afterward, and he could attend the bar mitzvah, its privacy undisturbed.
South African Chief Rabbi Warren Goldstein had written the prior week that whoever wants to come to services and pray to God should be welcomed non-judgmentally. The Chief Rabbi also commented that the UN report "has unfairly done enormous damage to the reputation and safety of the State of Israel and her citizens."
Richard Goldstone retorted in the same newspaper that he was "dismayed that the chief rabbi would so brazenly politicize the occasion of my 13-year-old grandson's bar mitzvah to engage in further personal attacks on me." (Barry Bearak, NY Times, 4/25, A10.)
The chief rabbi was un-politicizing the bar mitzvah, by separating it from the political issue. His criticism of the UN report was not personalizing the issue but sticking to the issue. If the report were as unfair as alleged, as my earlier articles demonstrated, then Goldstone has invited strong criticism. Goldstone's retort seems further indication of a non-judicial temperament by the former ranking justice of South African courts.

OBAMA ANTAGONIZES ARMENIANS AND TURKS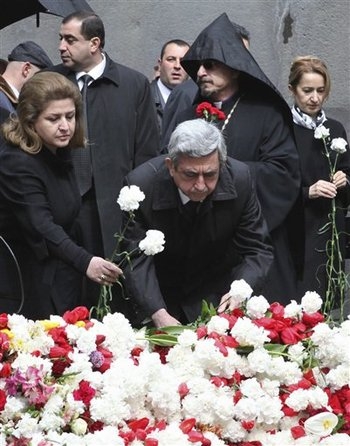 Amenian President commemorates (AP/Hayk Badalyan, Photolure)
President Obama marked the anniversary of the Turkish Armenians' mass-deaths at the hands of the Turks 95 years ago. By calling the event "atrocities," he went too far for Turkey and insufficiently far for Armenians. Both sides criticized him. Turkey contends that its relationship with another country should not be judged by third parties for political reasons.
As a candidate, Obama sided with the Armenians and sought the votes of American Armenians. As President, he no longer uses the word, "genocide" that Armenians want to hear. Earlier, he did advise them that his view remains the same. Obama explains that he muted his commemoration, so as not to roil delicate negotiations between Armenia and Turkey for a reconciliation treaty.
The treaty has run into its own snag. Armenia suspended ratification, because it believes that Turkey is trying to pressure it to reach a peace agreement with Azerbaijan (Peter Baker, NY Times, 4/25, A10).
Ironically, one of Obama's chief campaign attractions was his promise to end the partisanship and polarization in the U.S. and likewise the anti-American sentiment abroad. Instead, he has further polarized the U.S. with nasty, personal partisanship uttered in the same breath as he calls upon Republican Members of Congress, against whom he has just made excessive accusations, to be non-partisan. He means, in the Muslim manner, that they should make peace on his terms and by subordinating themselves to his ideology. He was not elected to institute his ideology of all-consuming government.
He was elected partly to improve America's reputation abroad. The decline of America's reputation had been exaggerated and unfairly to President Bush. The exaggeration was exploited by pre-existing anti-Americanism and a perceived decline in U.S. power, to justify itself. Bush was accused unfairly or incorrectly of wrongdoing, and was not credited for the liberty he helped some countries get and the dissidents he got freed from jail. By contrast, according to Bari Weiss, Wall St. Journal, 4/24/10, A11, Obama abandoned dissidents and helps developing dictatorships that happen to be anti-American. He betrays U.S. allies and appeases U.S. enemies. Since those enemies have an anti-American ideology, he cannot be said at least to be making new friends.
It is true that the Armenian deaths have become a politically correct issue, rather than a scholarly one. People are called to account if not 100% on one side or the other. The subject is not discussed rationally or in detail. I'm surprised that no references are made to U.S. statements at in the early 1900s. Turkey would counter that those statements were made out of context of war and rebellion.
It would be unfortunate if belligerence over long past issues inflames belligerence over contemporary issues.

TRAUMATIZED U.S. VET OF IRAQ AND AFGHANISTAN FEEL MISTREATED
The Pentagon denies accusations that veterans of the Iraq and Afghanistan wars are neglected and abused by its trauma care units for veterans. Here is what the veterans and their families report.
Veterans have seen buddies killed, even burned to death. So they get nightmares. Some, however, have brain damage.
The families claim that the veterans assigned to the trauma care units are overdosed on medicine and under-treated for psychological trauma. Such troops get some psychological counseling or treatment once a weak, but are alone for long stretches. Meanwhile, they are prescribed several psychological medicines to which many become addicted or from which they escalate to heroin. They are treated like soldiers by sergeants who are particularly strict on patients confused by the medicine. The sergeants berate the patients for not making roll call and the like. Sergeants have admitted considering the patients as malingerers, rather than as suffering from ailments needing treatment. Nurses have objected to the way sergeants treat the ill.
Patients find their incarceration useless and worse for them to bear than combat. They prefer to leave. They have a relatively high rate of suicide and crime (James Dad, Dan Frosch, New York Times, 4/25/10, A1).
There probably is some exaggeration or misunderstanding in these account, but have a general ring of truth. My Dad told me that historically, countries to not treat their veterans well. These veterans suffer for having defended our lives. We are obliged to do what we can to make them whole.
Surely this issue requires a national investigation, a real and expeditious investigation. We must know how true the allegations are. Then we need to know and apply remedies.
First we should strive to reduce the trauma. It may be increasing because the military has learned to save more lives, but those lives were saved from a damaging condition.
We know that the military and its budget reacted slowly to the lack of sufficient armor to protect troops. Decision makers need a faster and more reliable way of getting the combat troops' viewpoint about the problems they face.
We also know that due to keeping our military rolls much lower than our need, the same troops who face terrible conditions on each tour of duty get more tours than formerly. This exploitation reflects selfish conservation of funds in behalf of lobbied subsidies for lesser desires but more politically powerful ones. And the tours stretch out, because we don't plan our wars enough.
The article did not say whether the non-coms who order the vets around were themselves combat veterans who might be expected to understand the stress and wounds of combat and the resulting mental disorders. Those non-coms at least need training in psychological needs of their patients. Perhaps the nurses' decisions should take priority over the non-coms'.
The treatment sounds like typical big government and big institutional care.
The trauma units need more person-to-person treatment. The country as a whole has a shortage of medical personnel. Nevertheless, we get more and more government controls that keep payment to practitioners low, thereby increasing the shortage.
The usage of so many medicines, and their costs, should be investigated, too. What do they accomplish? Are they appropriate for each patient? Or are they a means of warehousing people, the way some nursing homes do, for lack of staff?
Many people monitor our war effort in the hope of keeping our troops' behavior nobler than our adversaries'. Let them monitor our soldier rehabilitation effort, in the hope of keeping it as humane as our civilian hospitals!

OBAMA INVITES ABBAS TO D.C.
President Obama has invited Palestinian Authority head, Abbas, to visit him in Washington. Obama has, in effect, been ignoring Abbas' violations of the peace agreements against inciting to violence and committing violence.
Meanwhile, people think that Obama is less strident about criticizing Israel. Obama has, in effect, been ignoring Abbas' violations of the peace agreements against inciting to violence and committing violence (Arutz-7, 4/25/10).
Obama condones the party that violates the peace agreements, and condemns the party that does not violate the peace agreements.

IRAN GETTING URANIUM FROM ZIMBABWE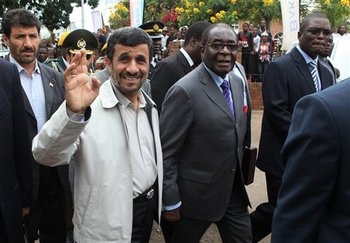 Mugabe alongside new suitor (AP/Tsvangirayi Mukwazhi)
Iran secretly contracted with Zimbabwe to buy uranium ore from it. Payment is to be in oil. This contract would violate the UN sanctions on Iran. Iran would gain unsupervised access to material that can be used to make bombs (Arutz-7, 4/25/10).

IRANIAN NUCLEAR SCIENTIST ASKS ISRAEL FOR ASYLUM
A second Iranian nuclear scientist has requested political asylum, in the same month. This one asked to go to Israel. The prior one resettled in the U.S. (Arutz-7, 4/25/10).
Richard Shulman is a veteran defender of Israel on several web-based forums. His comments and analyses appear often on Think-Israel. He provides cool information and right-on-target overviews. He distributes his essays by email. To subscribe, write him at richardshulman5@aol.com and visit his website:
http://www.examiner.com/examiner/ x-7095-NY-Israel-Conflict-Examiner/x-7
To Go To Top