Use the box below to search THINK-ISRAEL. Don't use partial words or wildcard expressions. If you type in several words separated by spaces, Google will find articles containing all these words in any order. If you put double quote marks before and after some words, Google will treat them as a single phrase. If the searchwords are judea samaria "san remo" golan, Judea, Samaria and Golan are independent and may be anywhere in the article. San Remo is treated as a single word. Case is ignored.
(Click the Star icon on the right top of an Google output page for more ways to search for results.)
THINK-ISRAEL HAS A NEW LOOK
Older articles are being processed and an accessible archive is in development. Meantime, all the articles and information can be found here.
Or use the main menu to access the archives.
We are told that there is a difference between extremist Islam and peaceloving normal Islam.
Judging by their behavior, Muslims are anti-West, anti-Democracy, anti-Christian, anti-Jewish, anti-Buddhist, and anti-Hindu. Muslims are involved in 25 of some 30 conflicts going on in the world: in Afghanistan, Algeria, Bangladesh, Bosnia, Congo, Cote d'Ivoire, Cyprus, East Timor, India, Indonesia (2 provinces), Kashmir, Kazakastan, Kosovo, Kurdistan, Macedonia, the Middle East, Nigeria, Pakistan, Philippines, Somalia, Sudan, Russia-Chechnya, Tajikistan, Thailand, Uganda and Uzbekistan.
Doesn't this mean that extremist Islam is the norm and normal Islam is extremely rare?
"The Palestinian people does not exist. The creation of a Palestinian state is only a means for continuing our struggle against the state of Israel for our Arab unity. In reality today there is no difference between Jordanians, Palestinians, Syrians and Lebanese. Only for political and tactical reasons do we speak today about the existence of a Palestinian people, since Arab national interests demand that we posit the existence of a distinct 'Palestinian people' to oppose Zionism.
"For tactical reasons, Jordan, which is a sovereign state with defined borders, cannot raise claims to Haifa and Jaffa. While as a Palestinian, I can undoubtedly demand Haifa, Jaffa, Beer-Sheva and Jerusalem. However, the moment we reclaim our right to all of Palestine, we will not wait even a minute to unite Palestine and Jordan." (PLO executive committee member Zahir Muhsein, March 31, 1977, interview with the Dutch newspaper Trouw.) The Palestinian leadership, including Ahmed Shukar and Yasir Arafat, has openly admitted Palestinian "peoplehood" is a fraud; Read This (PLO executive committee member Zahir Muhsein, March 31, 1977, interview with the Dutch newspaper Trouw).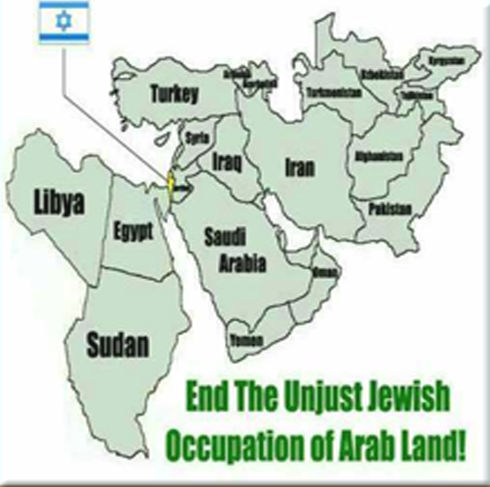 "It should be remembered that in 1918, with the fall of the Ottoman Empire, Britain and France were handed more than 5,000,000 square miles to divvy up and 99% was given to the Arabs to create countries that did not exist previously. Less than 1% was given as a Mandate for the re-establishment of a state for the Jews on both banks of the Jordan River. In 1921, to appease the Arabs once again, another three quarters of that less than 1% was given to a fictitious state called Trans-Jordan." (Jack Berger, May 31, 2004.)
The total for all the 22 Arab League countries is 6,145,389 square miles (SM). By comparison, all 50 states of the United States have a total of 3,787,318 SM. Israel has 8,463 SM, about one-sixth of that of the State of Michigan. Iran, Turkey, Pakistan and Afghanistan are Muslim but not Arab and are not included.
World Arab population: 300 million; World Jewish population: 13.6 million; Israel's Jewish population: 5.4 million. (Dr. Wilbert Simkovitz, http://dehai.org/archives/dehai_news_archive/apr04/0223.html)
"... during the late 1940s, more than 40 million refuges around the world were resettled, except for one people. They [Palestinian arabs] remain defined as refugees, wallowing 60 years later in 59 UNRWA refugee camps, financed by $400 million contributed annually by nations of the world to nurture the promise of the "right of return" to Arab neighborhoods and Arab villages from 1948 that no longer exist." (Noam Bedein, Jerusalem Post, January 6, 2009.)
Some 900,000 Jews left behind $300 billion in assets when they were forced to flee for their lives from the Arab countries in the 1940s. They hold deeds for five times Israel's size. (Independent Media Centre, Winnipeg)
Re Israel's irrevocable ownership of Israel, Golan, Samaria, Judea and Gaza: "Nothing that Israel's legal system says can change the facts that: (1) the legal binding document is the Mandate of the League of Nations and (2) the obligations of the Mandate are valid in perpetuity." (Professor Julius Stone)
"By 1920 the Ottoman Empire had exercised undisputed sovereignty over Palestine for 400 years. In Article 95 of the treaty of Sevres, that sovereignty was transferred to England in trust for a national homeland for the Jews. The local Arabs had never exercised sovereignty over Palestine and so they lost nothing. Their rights were fully protected by a provisio in the grant: '...it being clearly understood that nothing shall be done which may prejudice the civil and religious rights of existing non-Jewish communities in Palestine...' The proviso has been fully observed by the Israelis. Since 1950 the Arabs have built some 261 new settlements in Judea and Samaria — more than twice as many as the Jews, but you never hear of them. They fill them with Arabs from Lebanon, Egypt and Jordan and by the grace of God they become Palestinians. Allahu Akbar! The Arabs call Judea "the West Bank' because they would look silly claiming that Jews are illegally living in Judea." (Comment by Wallace Brand on Martin Peretz "Narrative Dissonance" The New Republic, July 1, 2009)
"More Americans need to become familiar with the concept of baseline budgeting. In simple terms, if an agency's budget is $100, and they are expecting an increase of $10.00 next year, but they only get $8.00, politicians characterize that as a $2.00 cut in spending. Concerning the entire $1.2 trillion in 'cuts' engendered by the sequester, it must be understood that they are not really cuts at all. They are really a lowering of the projected increase in federal spending going forward. The Congressional Budget Office (CBO) cuts through the fog. 'For the 2014-2023 period, deficits in CBO's baseline projections total $7.0 trillion. With such deficits, federal debt would remain above 73 percent of GDP —far higher than the 39 percent average seen over the past four decades,' it reports. Thus, over the next decade, we are 'cutting' our way to adding another $7 trillion of debt to the $16-plus trillion we have already amassed. As far as the administration, Democrats and their media enablers are concerned, any attempt to mitigate that 'paying-for problem' will turn America into a Third World nation of vegetable eaters. Yet the simple truth remains inarguable: absent the genuine entitlement reform critically necessary to get our spending under control, we are headed for national bankruptcy. At that point, even vegetables may be a luxury item. [..] over the next decade, we are 'cutting' our way to adding another $7 trillion of debt to the $16-plus trillion we have already amassed.' (Arnold Ahlert, February 19, 2013)
---

Editor's Note:

Think-Israel tends to use salafist rather than extremist or Islamist or militant or fundamentalist or activist to describe generically a pious Muslim, one who sticks as closely as possible to the unfiltered words and actions of Mohammad and the first three generations of Muslims, including, especially, the Companions of the Prophet. In modeling himself as closely as he can on the preachings and practices of Mohammad, a salafist can in modern terms be precisely described as an uninhibited terrorist, a theological supersessionist, a political supremacist who believes Islam and sharia law must dominate and a social barbarian, who wages jihad with whatever tools are available. Thanks to the high quality of whitewash supplied by sympathetic propagandists, he seldom is so described.

---
FEATURED STORIES
PLEASE NOTE THERE IS NO NOVEMBER-DECEMBER 2014 ISSUE

FEATURED STORIES
FEATURED STORIES
July-August, 2014 BLOG-EDS
This is where our readers get a chance to write opinions and editorials and share articles they find informative. The Blog-Eds page for the month is updated every few days.
There is a separate file that is the index for the articles on the Blog-Ed page. You can access an article immediately from this index by clicking on the item in the index.
To access the Index, click the "Blog-Eds List" box in the Blue Strip on the top of the Blog-Ed page.
July 2014 BLOG-EDS READ MORE
August 2014 BLOG-EDS READ MORE
Please note that The Blog-Ed pages for July and August 2014 are not currently available.
Different Blog Ed pages will be down intermittently until the Archive structure is in place. We apologize for the inconvenience.
Return to Feature Index

FEATURED STORIES
NOTE: There is no March-April 2014 issue.
FEATURED STORIES
FEATURED STORIES
FEATURED STORIES